Alaska Local Moving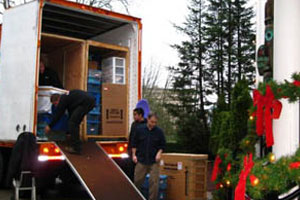 In today's mobile society a person moves an average of every three years. With so many local moving companies to choose from, make sure you make the correct choice by going with the experienced movers at Allied Alaska.
Allied Alaska offers professionally trained sales personnel to help you plan your upcoming local move. Our customer service staff will happily follow your move from its inception to the final delivery.
Our moving crews are Certified Professional Movers. The certification and training our movers receive guarantees that your possessions are in the hands of experienced movers who will exceed all of your expectations. You can trust our Alaska movers to get the job done efficiently and timely making your local moving process worry-free and simple.
Prior to your local move, you can receive a free computerized estimate of your moving costs. For your relocation you will then receive an inventory of the goods that were moved. The use of computerized estimates and inventories is an unmatched service offered in Alaska only by Allied Alaska.
Alaska Local Movers
We use the best moving and packing products that are available. Our paper pads are specially manufactured in Georgia for our use. The pad is a four-ply material, while the industry standard is only two-ply. This four-ply pad meets our rigorous standards for safe packaging.
Would you like to learn more about our capabilities as local movers? Contact Allied Alaska today to speak with one of our friendly professionals in regards to your intrastate moving needs. Request a FREE in-home estimate from your local movers of choice by filling out our quick request form right now!
For more information about the services we provide, call us today at (888) 995-3331.